---
Best cup for weaning, drinking and feeding
The award-winning feeding cup, weaning cup and drinking cup recommended by Dentists and Health Visitors
Small and perfectly formed! Babycup measures 5cm (just under 2 inches) from top to bottom.
Safer than a sippy cup, easier to clean than a no-spill valve, the Babycup open drinking cup for babies and toddlers is the perfect baby cup for weaning and beyond.
Suitable as a baby and toddler drinking cup or for cup-feeding newborn including premature babies.
Ideal for baby led weaning. Suitable for puree babies. Great for transitioning from breast to cup or bottle to cup or weaning off the sippy cup. No need for any other training cup.
Also brilliant for feeding challenges including bottle refuser, latch difficulty, tongue tie or cleft, Babycup is great for a hospital bag and weaning kit. Growing babies healthily.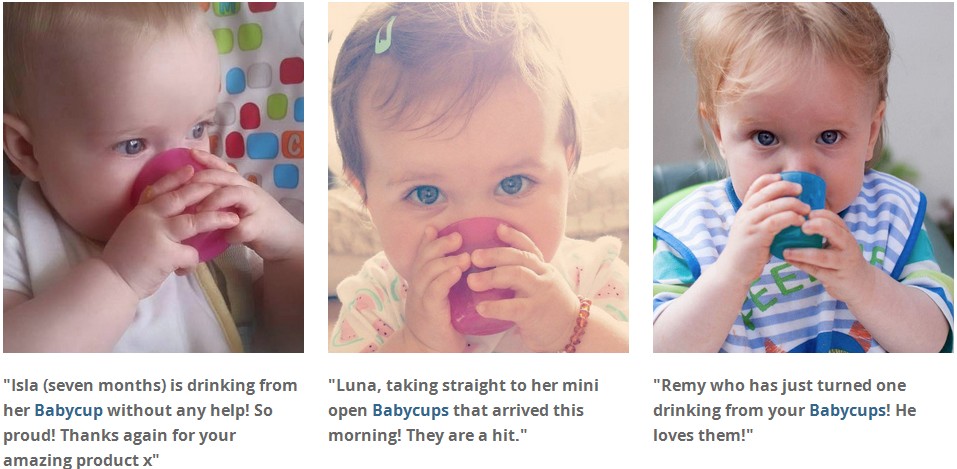 One small Babycup for mealtime, one giant leap for your child's health.
Less is More
Small open cups, more control, better fine motor skills, improved chances for good oral health.
Babycup open drinking cups allow your baby or toddler to sip rather than suck. Babycup's colourful mini cups are translucent so your child can see inside and are perfectly shrunken for little hands and little mouths. BPA & phthalates free, they are non-toxic, dishwasher and steam steriliser safe. Babycup open baby cups are recommended by dentists, orthodontists and health visitors.
Lidded Cups Linked to Childhood Tooth Decay
The American Dental Association advises to help prevent tooth decay, children should be encouraged to drink from a cup by their first birthday. It is believed that sucking exposes teeth to liquids in a different way to sipping. Without doubt, it is vitally important that children do not have sugary drinks. As well as taking care with what children drink it is also important to consider how they are drinking and more and more experts are spreading the word that sipping from a truly open cup is the best and most natural way to drink. The British Dental Health Foundation suggests starting with a cup or glass by the time babies are about 6 months old, or when they are able to sit up and can hold things, on their own.
Decay – Easier to Prevent than to Treat
An infant and toddler forum factsheet, reviewed and supported by the British Dental Health Foundation, reports 'by the time they are five years old, over 30% of children in the UK have dental decay'. A change as simple as giving a child an open cup rather than a sippy cup could help improve this statistic. Avoiding juice or sugary drinks is key and what children eat or drink is so important. As well as making healthy food and drink choices, leading healthcare professionals also recommend using an open baby cup for your baby or toddler.
Oral Health
Using a lid, or spout, with a no-spill valve, does not teach the child how to drink properly. Cups with valves do not allow a child to sip. Children have no choice except to suck – as from a baby bottle. The American Dental Association says avoid no-spill valves. (It is important to note that the action of breastfeeding is a completely different oral process from sucking on a drinking cup spout). Leading orthodontists have commented that spouts, and no-spill valves, mean a child has to suck rather than sip. This contributes to poor facial and dental development. Developing healthy oral habits from an early age has a great influence on how a child's teeth will develop. A young child's teeth, jaws, and muscles are still growing so it's a crucial time for parents to steer their infants away from needing extensive orthodontic treatment later in life. Many cups called sippy cups don't encourage a sip at all and could be more aptly named sucky cups. The same goes for many cups that are confusingly known as 'free-flow cups' or those promoted as 'like an open cup'. Babycup baby cups really are for sipping. Babycup is the real sippy cup. The British Dental Health Foundation website says that drinks should be offered six to eight times a day, and, from as early an age as possible, should be sipped from a cup or glass, not sucked from a bottle. No-spill cups are often thrown on the floor, chewed by soft baby teeth and drunk from whilst laying flat on the ground. This allows the contents to flow directly into the Eustachian tubes.
Award-winning little cup with big health benefits
British-made 'Babycup first cups for babies and toddlers', are mini open cups praised by experts for their dental benefits and perfect proportions and described as "weaning essentials".
In contrast to the size of many cups, Babycup has been designed to be the right fit for little hands and mouths. As well as the usability benefits of Babycup's dinky dimensions, being open it allows children to develop a natural sipping action, a developmental necessity that dentists say supports tooth health and orthodontists say plays a pivotal role in jaw and facial growth.
"Babycup is a healthy choice for your child. Spouts and no-spill valves that mean a child has to suck, rather than sip, contribute to poor facial and dental development. Starting healthy oral habits from an early age has a great influence on how your child's teeth will develop," says Dr Derek Mahony a leading Orthodontist based in Australia.
Dental decay is preventable yet it is one of the most prevalent childhood diseases in the developed world. A 2014 Public Health England survey found that over 1 in 10 youngsters had an average of three teeth that were decayed, missing or filled by age three. Experts urge that it's not just what children are eating and drinking that is crucial but also how. Unlike spouts or no-spill valves, open cup sipping is not implicated in dental decay and Babycup is recommended by Dentists and Oral Health Professionals as the healthy cup. Lynette Anear, an NHS Oral Health Promoter says, "This cup is perfect. Every child should have a Babycup. It should be a normal part of the weaning process."
The NHS Choices website promotes the use of an open cup for weaning because it helps babies learn to sip and is better for their teeth. The American Dental Association advocates cups to avoid childhood dental decay or 'baby bottle caries.' Reviews by parents, who've discovered Babycup as the best way for little ones to drink at highchair times, see it called "Life-changing", "A great idea!" and "Worth every penny."Lisa Clegg, author of the best-selling parenting book 'The Blissful Baby Expert,' says, "From me and lots of other mums it's a big thumbs up."
In a short space of time, this independent UK brand has seen increasing numbers of parents become aware that the way in which children drink is a key factor in their child's healthy development. Since launching into retail in 2013 the happy-sipping Babycup has already received prestigious recognition via professional endorsements and revered awards including Best Drinking Cup in the Loved By Parents Awards 2014 and Best Baby Product 2014 in the Janey Lee Grace Natural Living Platinum Awards. Babycup does good and looks good too and its quality design has also seen it named Best Feeding Product 2014 in the prestigious Junior Design Awards.
Sara Keel, a mum of three and creator of Babycup says, "The simple step of using a Babycup at food times has enormous health gains for children."BPA-free, dishwasher and steriliser safe, and with dental and orthodontic benefits as well as encouraging fine motor skills, Babycup is a mealtime must-have for every child until around 36 months. Also suitable from birth for cup-feeding milk to infants.
How to use Babycup
Baby weaning, toddler drinking and beyond
Start at highchair/mealtimes so your little one is seated and in a good position to start learning their new skill. Put just a little bit of liquid, be it milk or water, in the cup to begin with. If there are spills this will keep them to a minimum and the cup will be kept ultra lightweight for your young child. To help, try holding the cup with your baby or toddler so that you are guiding it to their mouth with them. The next stage is to hover a hand nearby whilst they start to hold and direct the cup themselves. Sitting with them and letting them watch you drink from an open cup is extremely beneficial too as they love to copy and learn brilliantly from it. Learning through mimicking is one of the most important learning processes for babies and young children. Positive reinforcement is also invaluable and parising your child and recognising them trying and showing how pleased and proud you are is great encouragement and really helps your little one suceed. The benefits of adopting this super sipping skill from weaning onwards are numerous, including dental health, orthodontic development and fine motor skills. It might take a little practise or your little one might sip straight away. Whichever is the case, it really is worth it.
Other uses for Babycup: Newborn cup-feeding
Babycup is in line with UNICEF's baby friendly initiative and supports their recommendation to use a small open cup whilst establishing breastfeeding. Babycup is also useful for a number of different scenarios such as tongue-tie, cleft, bottle refusal or for feeding expressed milk. Many midwives and health visitors are dab hands at helping with a hands-on demo of how to cup-feed an infant. Talk to your healthcare professional and ask them to show you the correct cup-feeding technique.